The exciting London event Hyper Japan was held in July! Hyper Japan is an 3-day long festival which celebrates Japanese culture, kawaii fashion, and cute music♪
This year, the Harajuku model Haruka Kurebayashi was a guest at the event! She was invited by Dreamy Bows, a UK based kawaii brand. Dreamy Bows came together with Kurebayashi to create an adorable, dreamy fashion show!
Click here to read all about the collaboration> Haruka Kurebayashi x Dreamy Bows Collab♡ Kawaii Event Hyper Japan in London, UK♪
What is Dreamy Bows?
Dreamy Bows is a UK based shop which stocks all kinds of Harajuku kei brands from Japan ♥ These brands include Listen Flavor, Chocomint, and have recently become the official stockist of the iconic Harajuku brand 6%DOKIDOKI ☆
These brands were all featured in the fashion show along with the 90884 x Dreamy Bows collaboration goods♪
Let's check out the fashion show!
The show represented so many different Harajuku styles ♥ Let's look at some of the outfits worn by the kawaii models~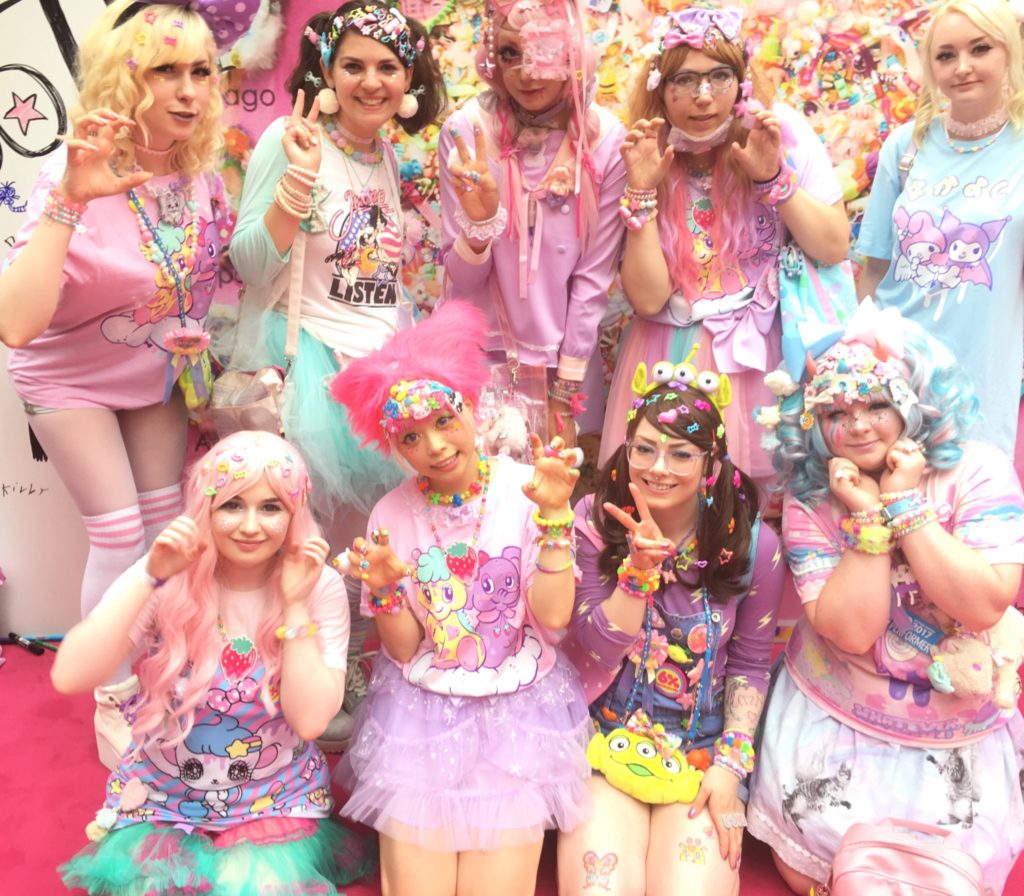 ~The Kure Squad~
These four fashionistas are well known net personalities within the British kawaii community! They were chosen to promote Dreamy Bows to their followers alongside Haruka Kurebayashi, as well as take part in the fashion show to raise awareness♥
Coord features Dreamy Bows x 90884, Listen Flavor, and more ♥
Haruka Kurebayashi – With her adorable pop style, Kurebayashi has become one of the most popular models in Harajuku! She has a unique and flashy style which she wears while performing with her band, MJR-Cookie♪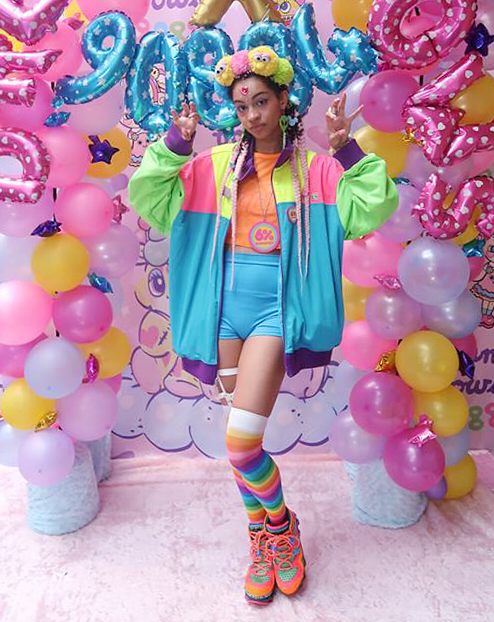 Choom is wearing Cyberdog and 6%DOKIDOKI ♥
Choom – Choom is an alternative kawaii model based in England. She has previously worked at Harajuku store 6%DOKIDOKI, now modelling for the iconic Camden-based cyber brand, Cyberdog♥HP♡instagram♥Youtube♡
Coord features Dreamy Bows x 90884, Chocomint, 6%DOKIDOKI, and offbrand ♥
Caspian – Caspian is a popular boystyle icon and YouTuber from the UK! His cool yet cute fashion stands out among the rest♥instagram♡
Coord features Listen Flavor, Angelic Pretty, WEGO, Spank!, and Chocomint ♥
Charlotte- Charlotte often uploads kawaii videos to her YouTube page, as well as regularly updating her Instagram with adorable girly coordinates! You can find her videos here♪
Coord features Dreamy Bows, Chocomint,Dreamy Bows x 90884, and offbrand ♥
Emily Meowwww – Emily is a super popular writer and DJ. She has a unique, drag-inspired kawaii style which has been a hit with her followers☆instagram☆
☆Look at all these adorable coordinates featuring Dreamy Bows☆
Keishi's fairy kei coord features 90884 x Dreamy Bows, 6%DOKIDOKI, and Chocomint ♥
Jasmin wears a pastel space-inspired yamikawa coordinate featuring Chocomint ♥
FifiDoll wore her own unique style inspired by space, featuring 6%DOKIDOKI hair accessories ♥
00Millie wears a bright, Harajuku style coord featuring Dreamy Bows x 90884 and 6%DOKIDOKI ♥
Michelle wears a sporty kawaii coord featuring Dreamy Bows x 90884 and Chocomint ♥
Rachel wears Harajuku Pop style♪
So many cute models♪
Kristine is wearing Classic Lolita style♥
Sandie wears a cool, Shibuya style Nanchatte Seifuku coordinate♪
Nina wears a kawaii pastel coord with a fluffy tutu♥
Kristine is wearing a pastel coord featuring Dreamy Bows x 90884 and Chocomint♥
Danielle is wearing a super frilly, all-pink Hime Gyaru coord♥
Rachel wears a sexy rock-gyaru coordinate☆
Finny wears an elegant summer Yukata ♥
Kurebayashi gave a British girl a makeover!
Kurebayashi transformed a kawaii-loving British volunteer using her own makeup techniques and accessories! This allowed Kure-chan's fans to get a close-up view on how to apply Harajuku style makeup, while receiving tips from the model herself♪
The volunteer later appeared in the fashion show to reveal her amazing decora transformation ♥
Look at how adorable she is♪
Kurebayashi performed songs from her band MJR-Cookie!
Image Source: https://www.mjr-cookie.com/
At the end of the fashion show, Kurebayashi showed off her powerful voice by performing 3 songs. She sung two anime covers, "Sailor Stars" from "Sailor Moon", then "Aozora no Rhapsody" from "Kobayashi-san Chi no Maid Dragon". The final song "DOKI DOKI", is by her band, MJR-Cookie♥
Once Hyper Japan ended, Kurebayashi was thrown a goodbye party at the Artbox shop in Covent Garden♪ It was a huge success!
We will tell you all the details in our final report on this event, featuring lots of colourful photos from the Goodbye Kurebayashi party♥ Make sure to read it♪
Photographs by; Amy Lavender, Choom, Emily Valentine Photography