Illustrator〔Hekutaiki〕 
Introducing Hekutaiki, a kawaii illustrator who creates the 'ecchi' and 'melty' cute manga,『Tororin Time.』🐻🍓
Who is Hekutaiki?💞
Hekutaiki is the illstrator of popular webcomic "Tororin Time" and was born in Hokkaido, Japan🍬
【Profile】
Birthday🍰:8/17
Hobby💕:Street Dance, Otaku-DJ
Favourite Colour💘:Cherry Pink, Regatta Blue
Favourite Food🍎:Chocolate, Cream Stew
Favourite Manga📖:Orion Street, Cinderalla-chan
Favourite Fashion👗:Ura-Harajuku, Casual, Mode
Favourite Music♫:New Wave, Techno Pop
Dream🌟:To create an anime with my original characters!
Find out more about the pop, colourful and cute manga 『Tororin Time』 on the Official HP💕
A paradise of slightly ecchi girls♡
Tororiina who loves yogurt and cosplay.
Jigyakuuna has a low self-esteem and is always clumsy & depressed,,,
You'll be mesmerised by all the cute girls in Tororin's World♪
『Tororin Time』 Characters♡
(From the left♡)
Neguriina
Yowacchi-na
Kurori-na
Tororiina
Technologiina
Urayamiina
HimeGyaruuna
Jigyakuuna
For more character details, click here.
New Characters have debuted!!🌹
Yunicor-na is dreamy, twinkling and is always happy.
Panja-na is a cheerful China girl.
Gururi-na is cool and has a sharp-tongue.
Look forward to their cute stories in  future・・!💖
Lafary has released an English Translated ver.!💘
Now you can download 『Tororin Time [English ver.]』from here.
*Only available: 10/8〜10/22*
『Tororin Time』is becoming popular with cosplayers!
『Tororin Time』is loved by cosplayers too!🐰
Their colourful hair is so vibrant and cute💄
The quality is so high, it's like they've jumped straight out of the manga・・!💖
🍰Event Information🍰
【Maidreamin × Toroin Time】
Event period:2017/6/9〜11
A collaboration Maid Café was held with『Maidreamin』 and『Tororin Time』💞
The collaboration cafe featured all kinds of cute food and limited goods・・!
It was super popular! 🐻
【Comitia121】
Date:2017/8/20
The first release in 2 years,『Tororin Time vol.3』was released at Comitia this August!💞
〔⭐️NEW⭐️〕
【VILLAGE VANGUARD Machida (standalone store)】
Date:2017/11/11(Sat.)
★The Return of Evento-na★
Hekutaiki Limited Event!! Limited goods and a portrait drawing session will be held at Village Vanguard in Machida!!🌟
Where can I get Hekutaiki goods?💖
🍓Main Place
・Village Vanguard Machida (standalone store)
・Village Vanguard Nationwide (SGP can badge)
🍓LafaryShop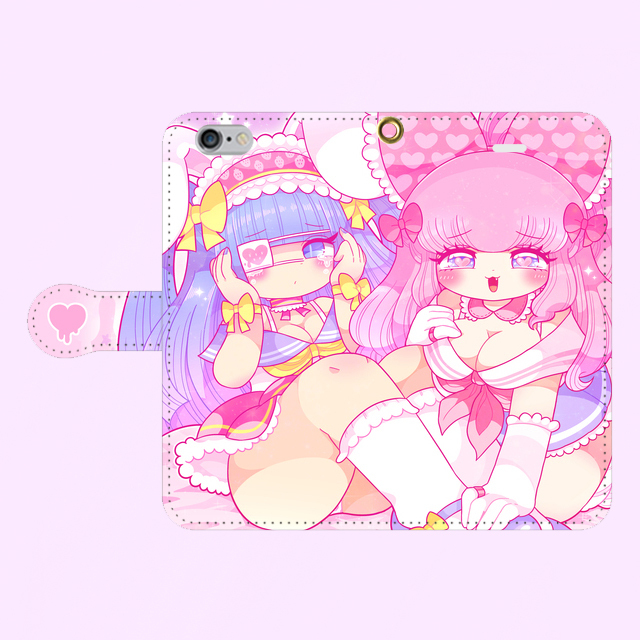 ・Dreamy Tororin Time♡Tororin&Kuu-chan(iPhone case) (¥3,000)
Check now
🍓LINE stamps
Download LINE Stamps💘
Find out the latest info by following Hekutaiki on SNS!⭐️
【Twitter♡@hecktop 】
へくたいき、今わりと手が空いているのでお仕事欲しいです。イラスト依頼、PR用キャラクターデザイン(アーティスト・モデルさん等のキャラクター化も)・漫画製作など承ります。どなたでも興味があればメールにて規格お値段等ご相談ください。
【hecktop.lisia@gmail.com】 pic.twitter.com/JVdE41JHP1

— へくたいき (@hecktop) 2017年8月21日
【Translation】
Hekutaiki is available to accept job offers.
Illustration, Character designing for PR (including making animated artist and models in real life), Manga creation and so on. 
If you are interested, please feel free to contact me with the details and price.
【hecktop.lisia@gmail.com】 pic.twitter.com/JVdE41JHP1
💌 Message♡💌
「I would like to expand my works by spreading Tororin Time all around the world.
 Hope you to enjoy slightly ecchi and cute Tororin and her companions!!」
Job Offers from the e-mail below▽💞
【hecktop.lisia@gmail.com】