Illustrator Umina Kurumi🍓
Today we'll introduce you to Umina Kurumi, a sweet & fancy yumekawa artist, and her brand "Fondant Pinky"💄💄
Who is Umina Kurumi?🐰
Umina Kurumi is an artist from Oita Prefecture in Japan💕
Her artwork is super popular for it's dreamy cute worldview, featuring sparkling girls and fancy motifs 💘
"Fondant Pinky"
Fontant Pinky was creatd by Umina Kurumi in 2013. She produces goods featuring her pale and colourful artwork 🌟
The brand name was inspired by the colour pink and Umina Kurumi's favourite melty motifs 💕
Hometown 🐰:Oita Prefecture
Birthday 🍇:14th of November
Hobbies 💓:Shopping, anime, and looking at clothes online
Favourite Colour 🌼:Pink x Yellow
Favourite Food 🍰:Sweet things, crispy things, chicken namban
Favourite Anime 🍬:Nanatsuiro☆Drops ← I love this more than anything else! It's probably where I got the inspiration for the sparkliness of my illustrations…
Favourite Fashion✨:Fairy & Lolita♡♡ (I like brands such as Angelic Pretty and milklim etc)
Favourite Music 🍎: Fenotasu, SHE IS SUMMER, Yunomi, STAR☆ANIS, etc
Dream 🍒:I want to go and eat with other illustrators! I'll do my best!
Upcoming Event Participation 🍰
Design Festa vol.46
Dates: 11th~12th of November ※Saturday Only
 Booth: C-433
She will be attending with Yumemi Sucha (@ymmsucha)
 [New Information]
・Kurumi x Sucha Collab Goods
 They have produced a 2018 calendar together! Look forwards to seeing the contents♪
 Enjoy 2018 with this sugary sweet collaboration calendar♡
・Kurumi Original Goods
 Illustrated Goods, Key chain, Postcards, etc ♡
Scatterbrained Santa Clause♪♪ (Portrait & Shop Sales) 💖
 Location: Harajuku "Usagi Youhiten" (http://usagiyouhinten.ocnk.net/ )
 Date: 9th of December 13:30~17:30
 [Event Overview]
 It'll be held just before Christmas! Santa Kurumi will be selling portraits and original goods♪
 Have fun at this Christmas party! There will be new goods too!
 ※There will be a small Christmas present for those who get a portrait drawn♡
 ※Portrait reservations begin on the 19th of November
 💘Comment💘
I only have two events left this year, Design Festa and the portrait event! I think they'll both be really fun☆ I'd love to hold a solo or group exhibition in 2018! I've recently started a job in design, so I don't have as much time to draw anymore… However, I have lots of fun events planned for the upcoming year, so I'll slowly be producing more and more illustrations! >_<♡
Where can I buy merch?🐭
💋 Shimokitazawa『Candye♡Sryup Shimokitazawa』
  (Setagaya-ku, Tokyo, Kitazawa, 2-10-10, Ichinose Building, 3F)
💋Mincho Munakata 『ZAKKA&OYATSU CochoCocho』
 (You can order items online through the stores official homepage)
 (Oita, Oita Prefecture, Kamimunakata, 531-2, Fujita Building)
💋Beppu City Kitahama Gothic&Lolita Concept Bar『AbysS』
 (Beppu, Oita Prefecture, Kitahama, 1-11-18, Rose Garden, Building 1, Kaihigashi, No. 1)
✩続き✩
AbysSへ、新作のキーホルダーなど色々をいくつか納品してきました!
現在大分での取り扱いはここだけになるので、是非気になる方、
お店で手に取ってみてね!˙˚ ᕱ⑅ᕱ ɞ˚˙ pic.twitter.com/kjLRfLtKHo

— うみな🍓 5/13デザフェスF-308 (@umina_krm) September 17, 2017
・Kurumi's Milk Mug Cup♡ (¥3000)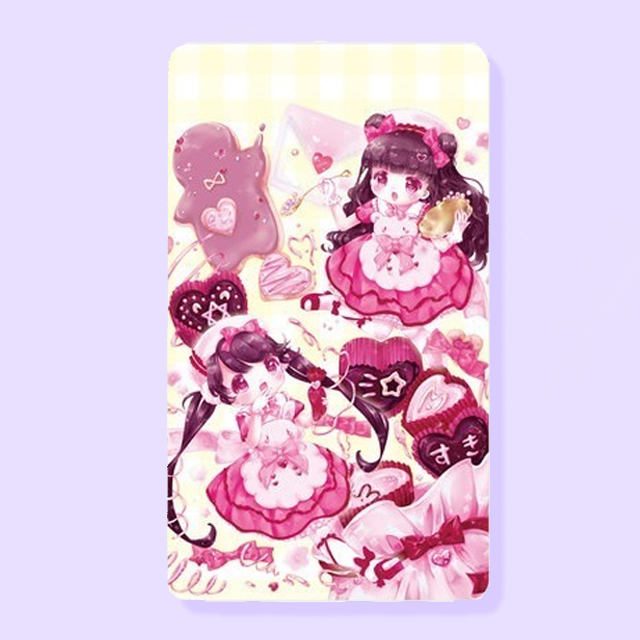 ・Lots of Love♥ Mobile Battery (¥3500)


🍑New Products🍑
 ♡Square Can Badge

 ♡Strawberry Jam Keyholder
 ※Available online after Design Festa
https://twitter.com/umina_krm/status/922114629223903232
🍒Job Recruitment🍒
 From December 2017, Umina Kurumi will be open for business commissions.
 For a consultation, send a message on her official website!
♥Media♥
Umina Kurumi was featured in KERA (Feb.2016), in a Design Festa report & MUSE Oita's Halloween exhibition event 💕
Check out their social media💓
Twitter:@umina_krm
Official HP:https://krkrmn.jimdo.com/
Tumblr:http://bat-umina-krm.tumblr.com/
Pixiv:http://www.pixiv.net/member.php?id=8635070
Instagram:@umina_krm