♡Honey Cinnamon Exhibition♡【2017 Summer】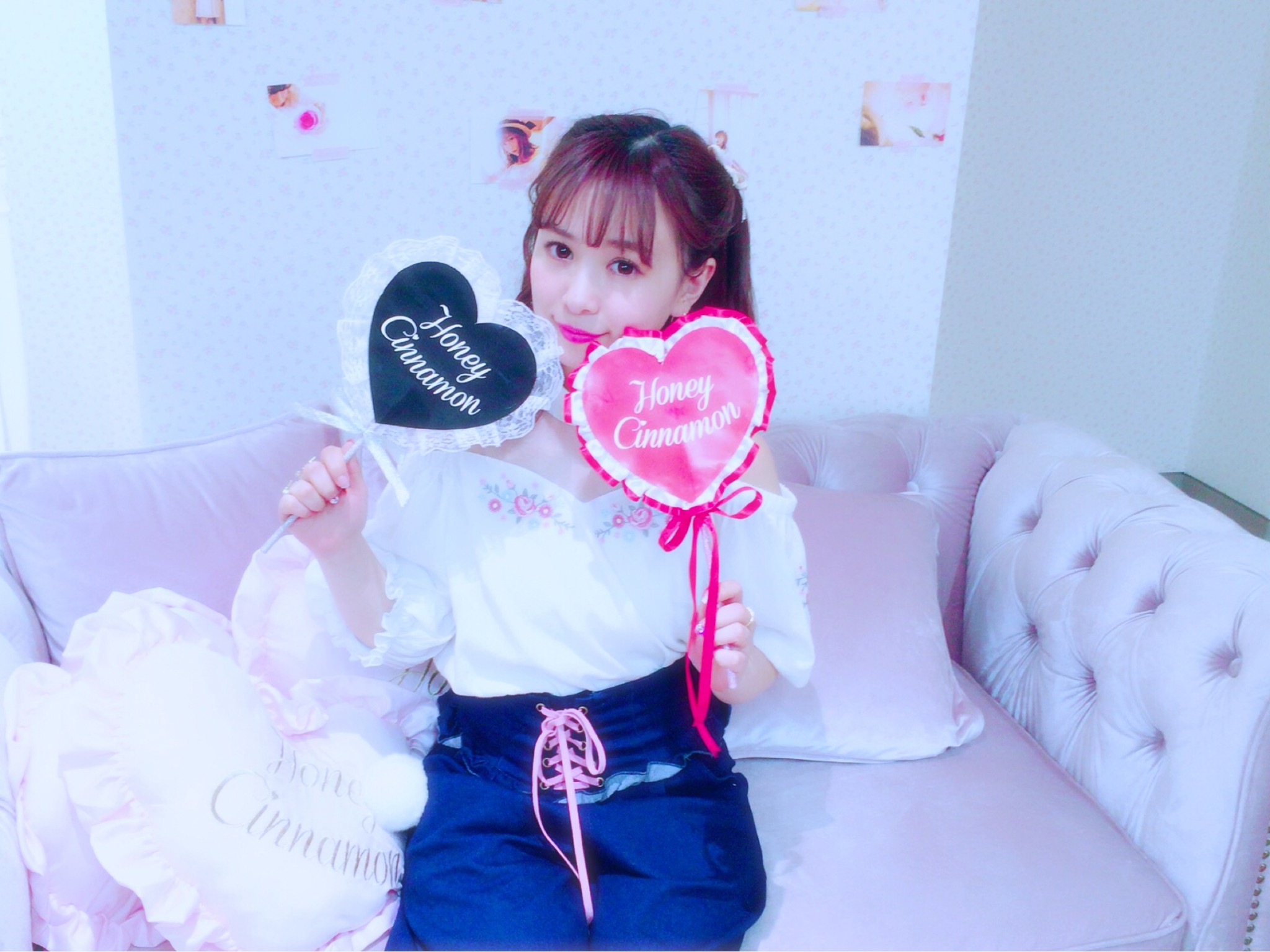 Honey Cinnamon is a romantic brand produced by former SKE48 member and model Kanako Hiramitsu (▷Twitter)
Lafary's model Kurumi went to visit the Honey Cinnamon Summer 2017 exhibition♡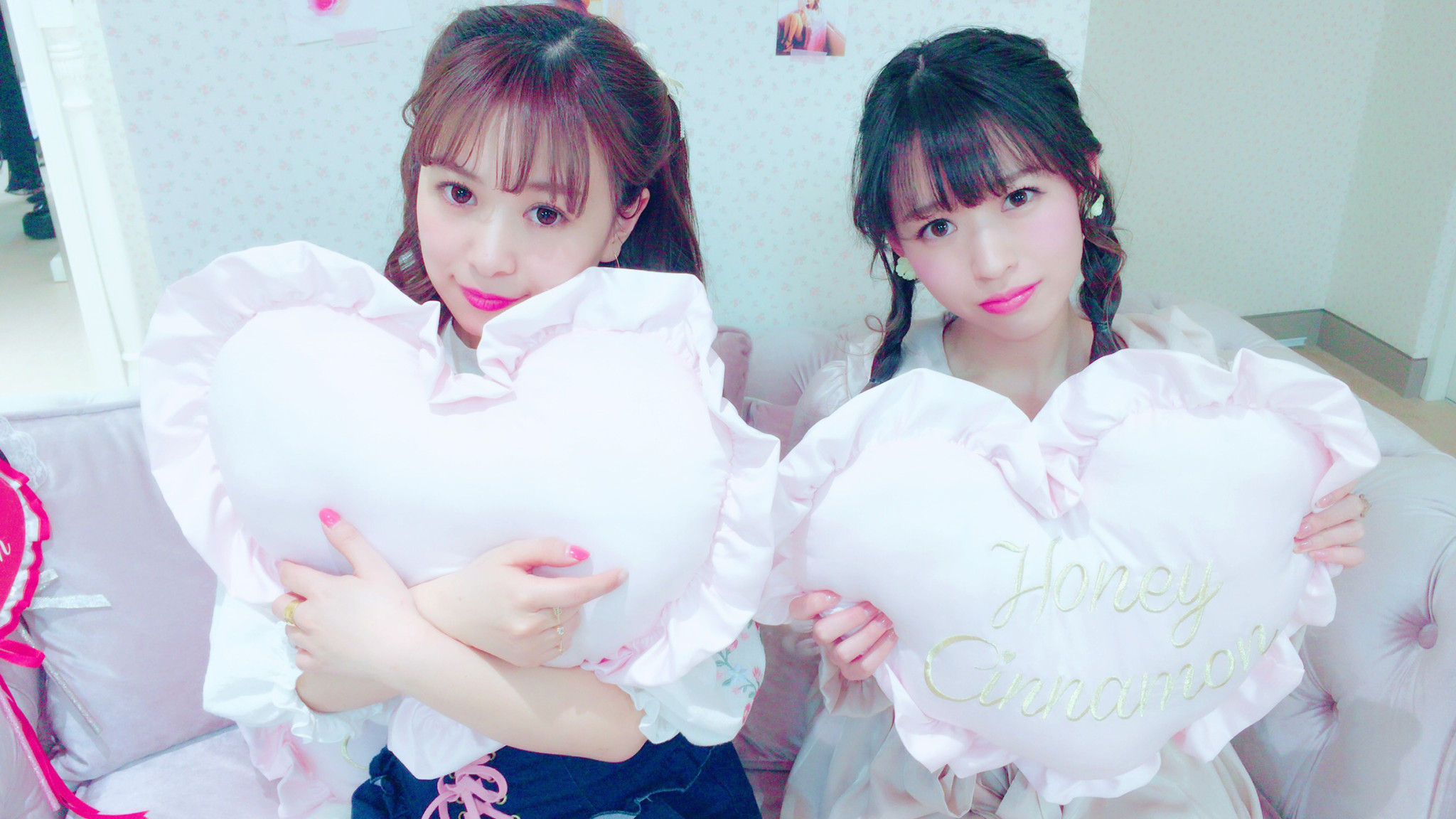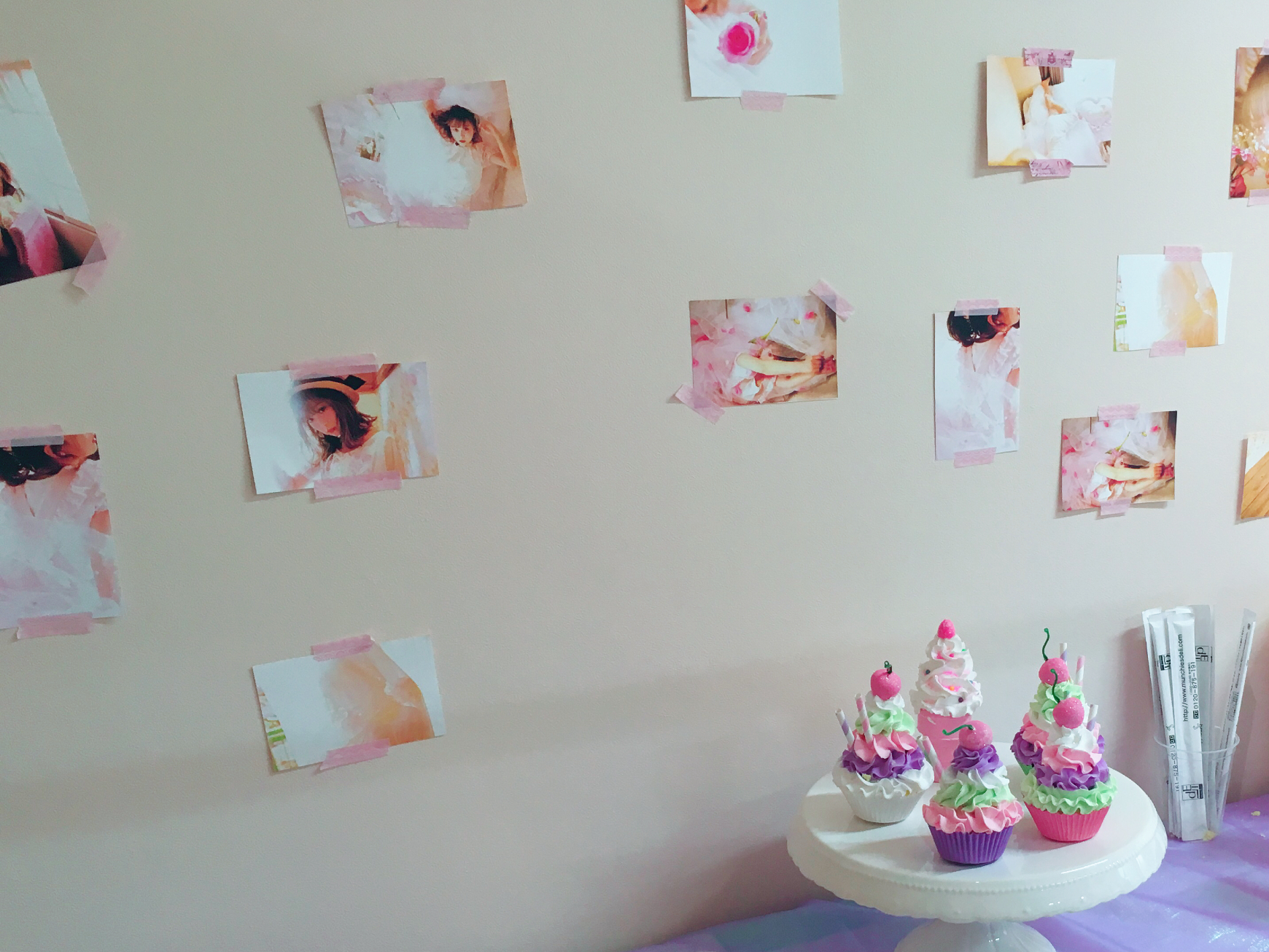 There were lots of colourful sweets displayed in the adorable pink press room…♡
The walls were covered in pictures of Kanako's romantic world♪
(☆)HoneyCinnamon(ハニーシナモン)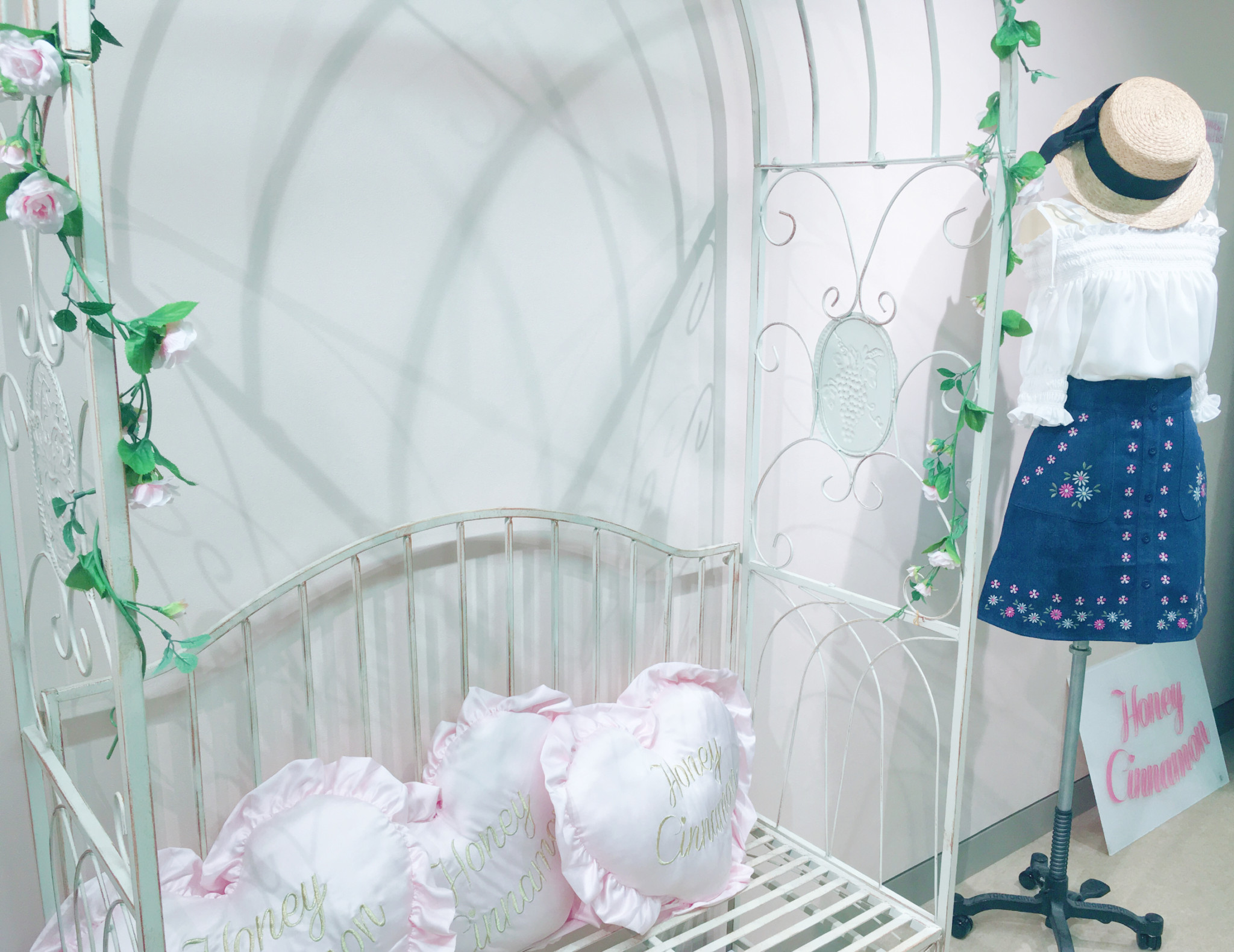 The combination of sweet honey and enchanting cinnamon creates one delicious flavour~
With this in mind,  the theme of Honey Cinnamon became "A mix of Girlish and Adult…" and has become a super popular brand, featuring in magazines like LARME and Popteen♡
The designs are sweet and girly, with plenty of pink x white frills and ribbons, but the items also have a touch of grown-up elegance♪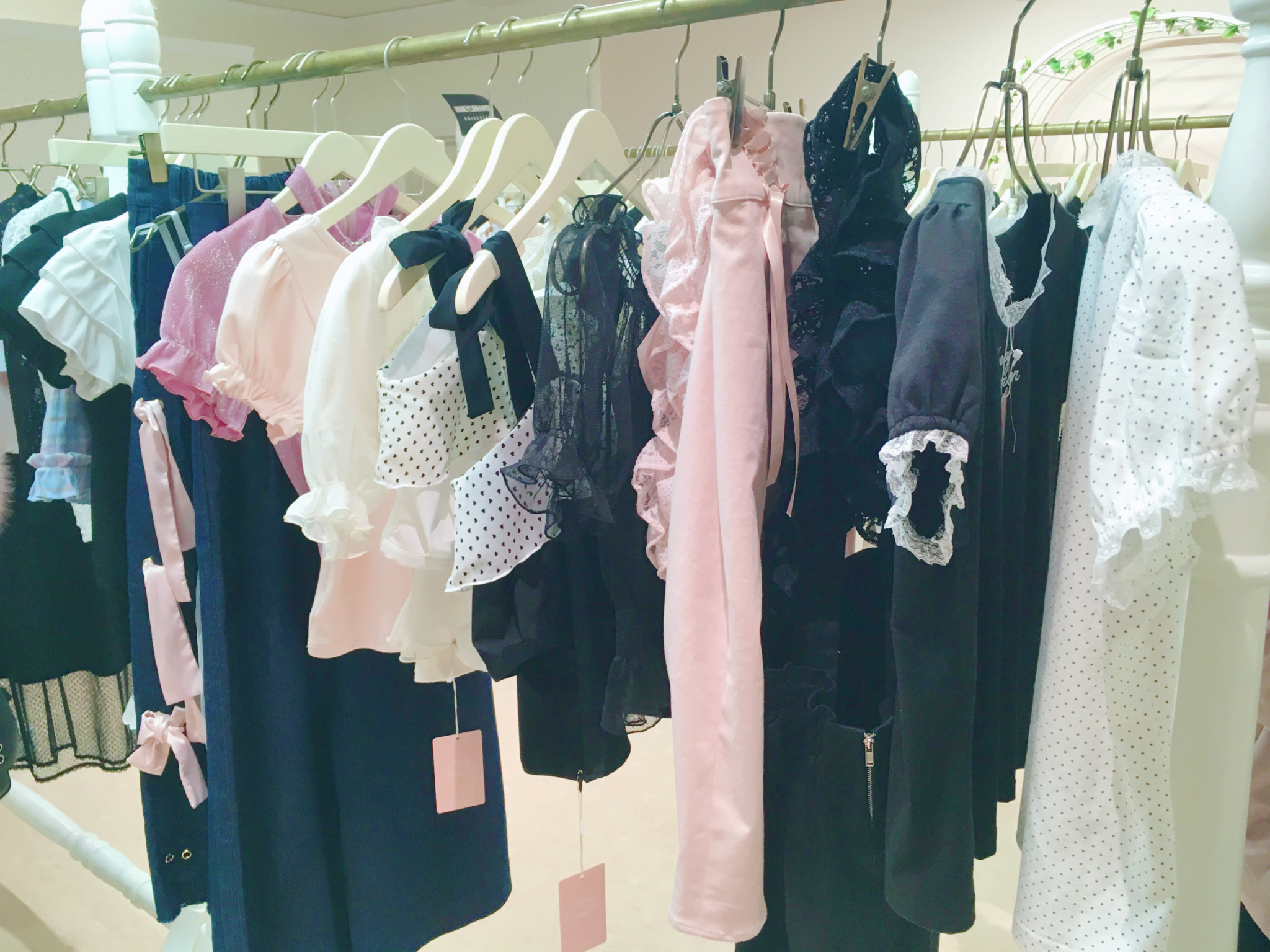 The theme for the latest collection is "Romantic Summer Vacation – a summer with loved ones"♡
The designs and materials were chosen perfectly by Kanakana~ Let's check out the latest collection!
(☆)2017SummerCollection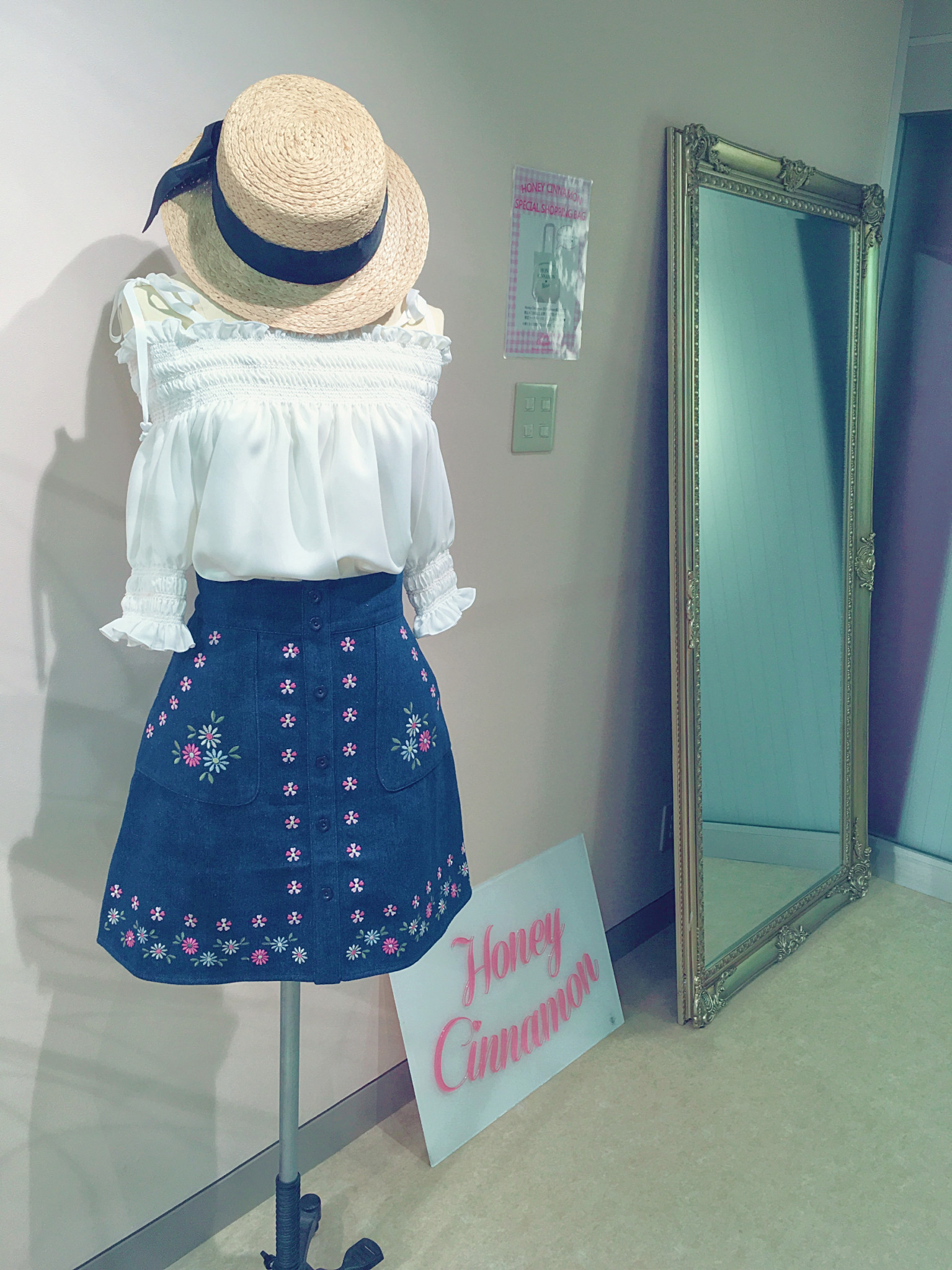 The fluffy shape of this gathered off-shoulder top (¥6000+tax) is the perfect summer item♡
It comes in 2 colours, sax and white♡♪
The embroidered denim skirt (¥9000+tax) is super trendy, and comes in pink or blue♡
The girlish design of this skirt has a fitted upper-half to reveal a feminine silhouette.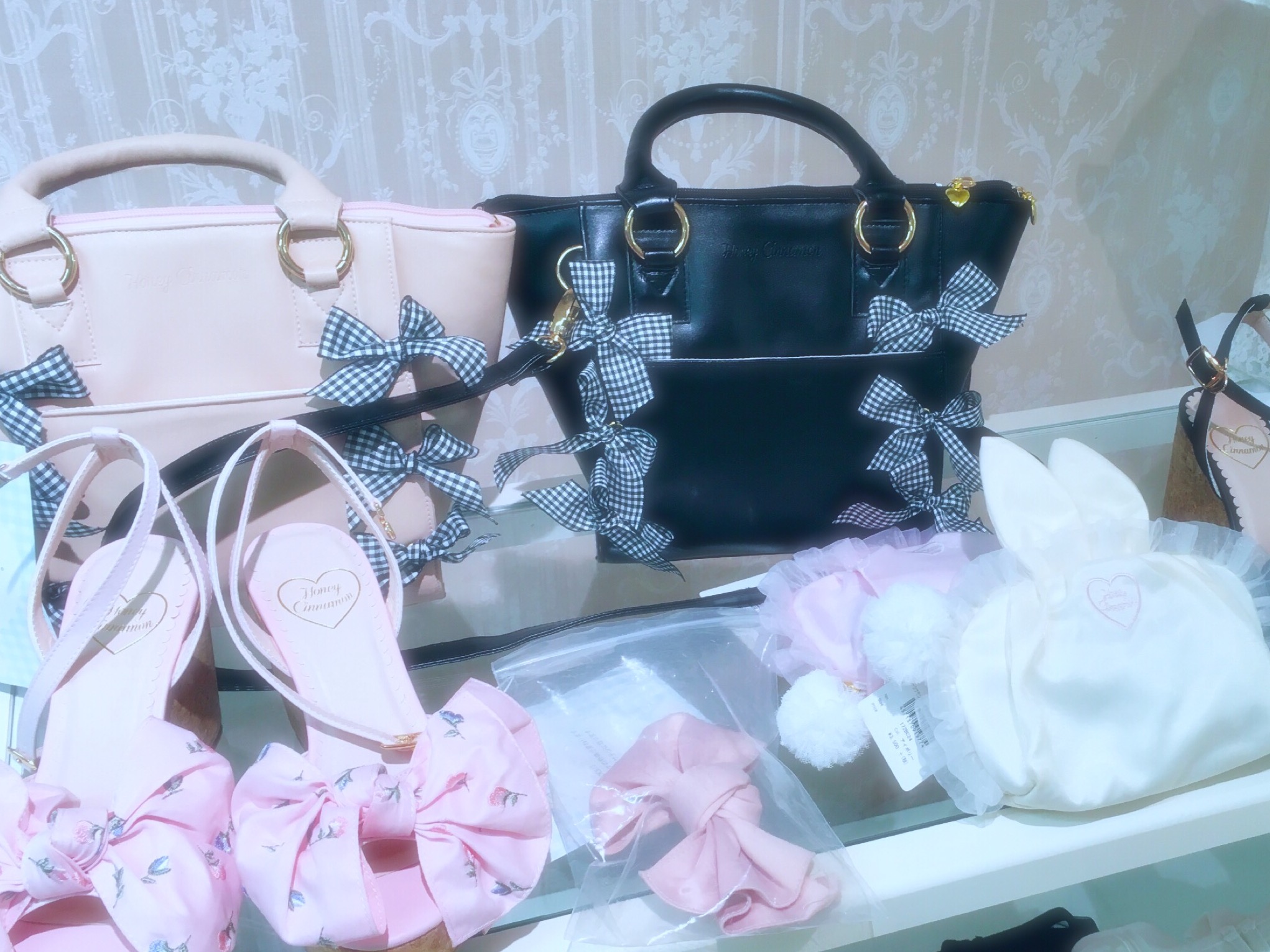 This lovely gingham ribbon bag can also be worn as a cross-body bag♡
It can be coordinated perfectly in both girly and feminine coords.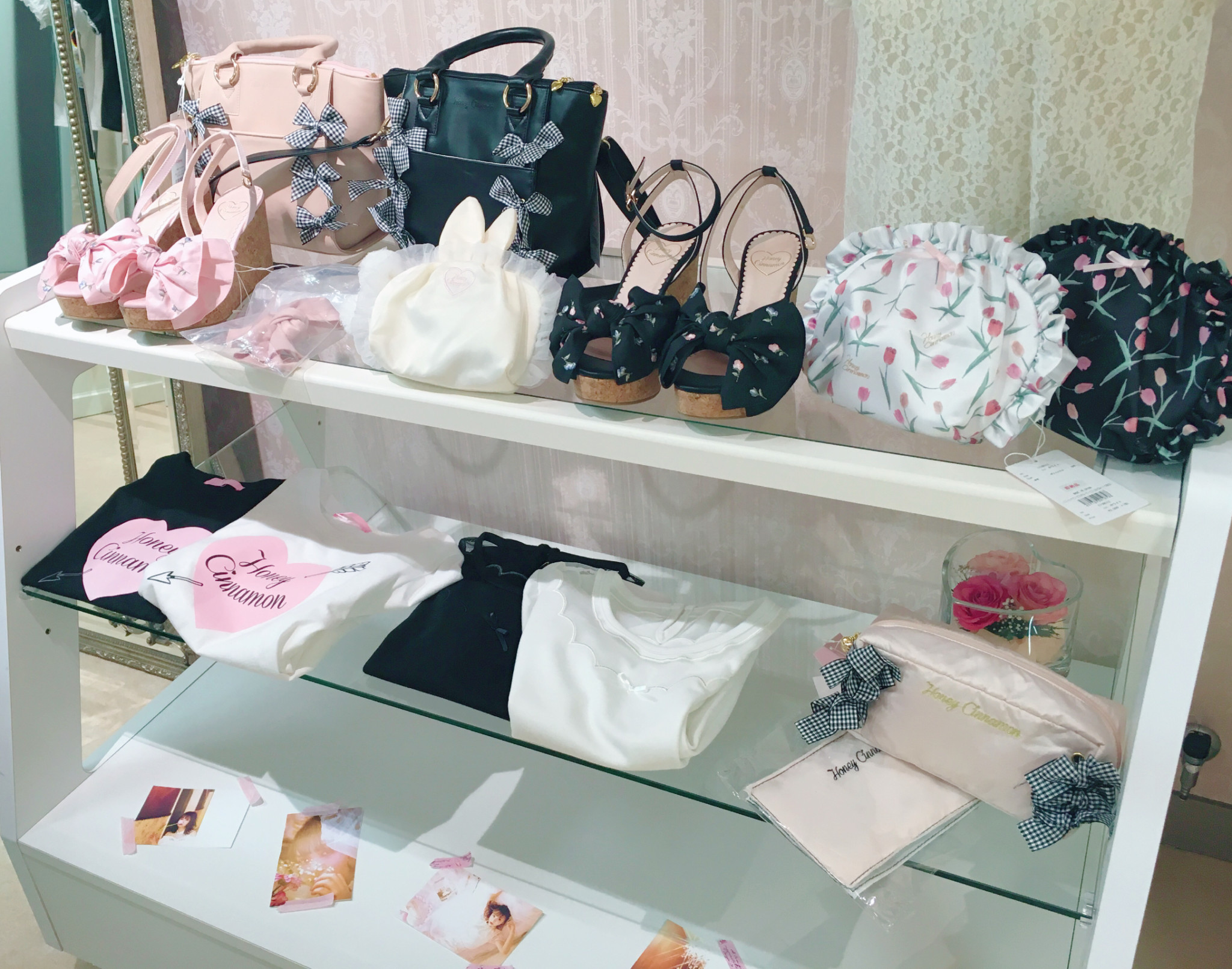 These Tulip and Bunny Ear design pouches (both ¥3500+tax) are perfect for spring~ They feature two inside pockets, so you can carry lots inside♪
Not only are Honey Cinammon items cute, but they're functional too! A woman's saviour item♡
There is even a dress to match the Tulip print purse♡!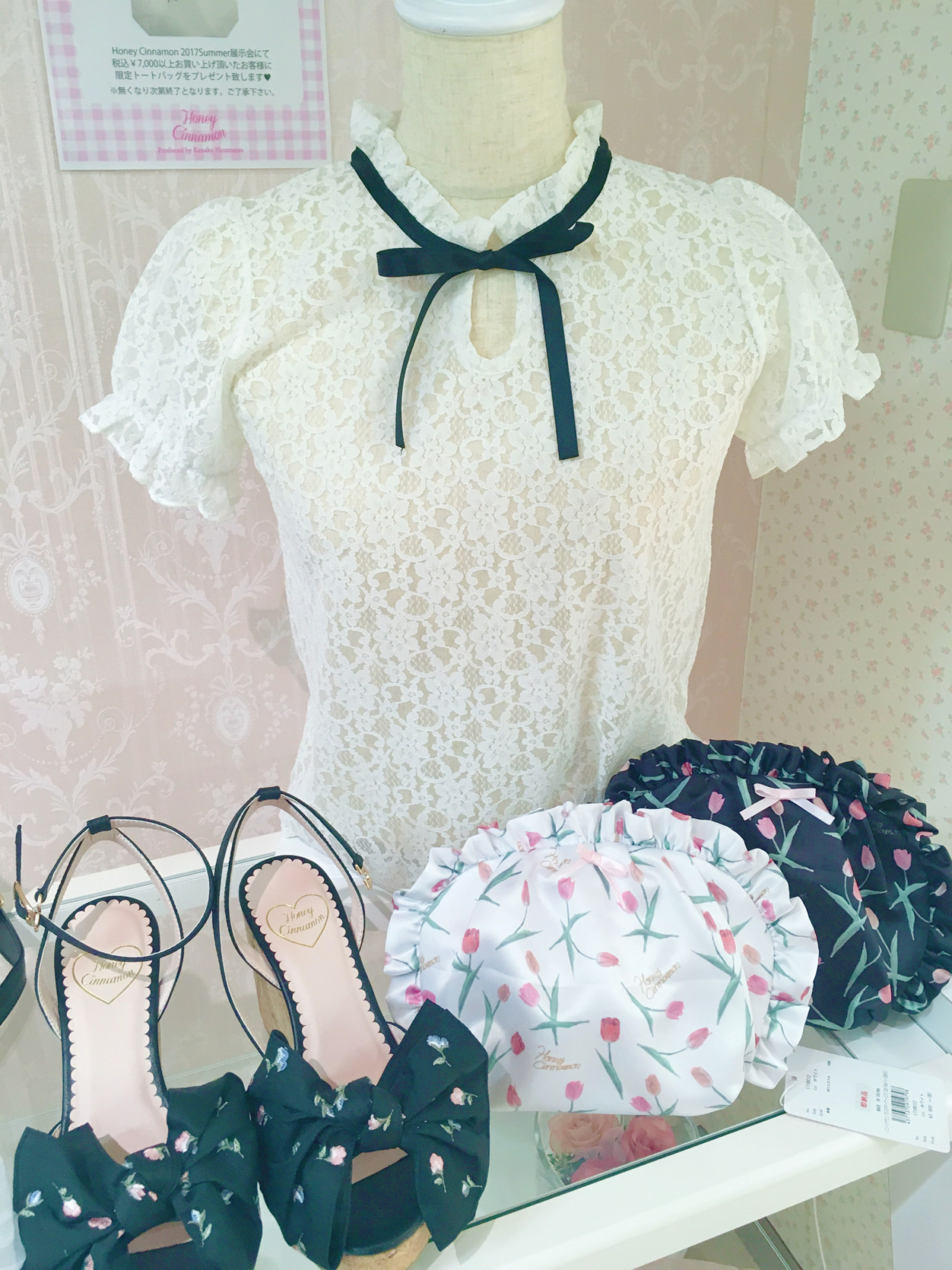 This airy puff-sleeve lace top (¥5000+tax) comes in both black and white♡
This top can be worn alone, or layered underneath a dress – it's a super versatile item♡
(☆)Honey Cinnamon Classic T-shirt♡
The bear and bunny print t-shirts by Honey Cinnamon are super popular, even worn by idols and models♡
There are also unisex versions available♪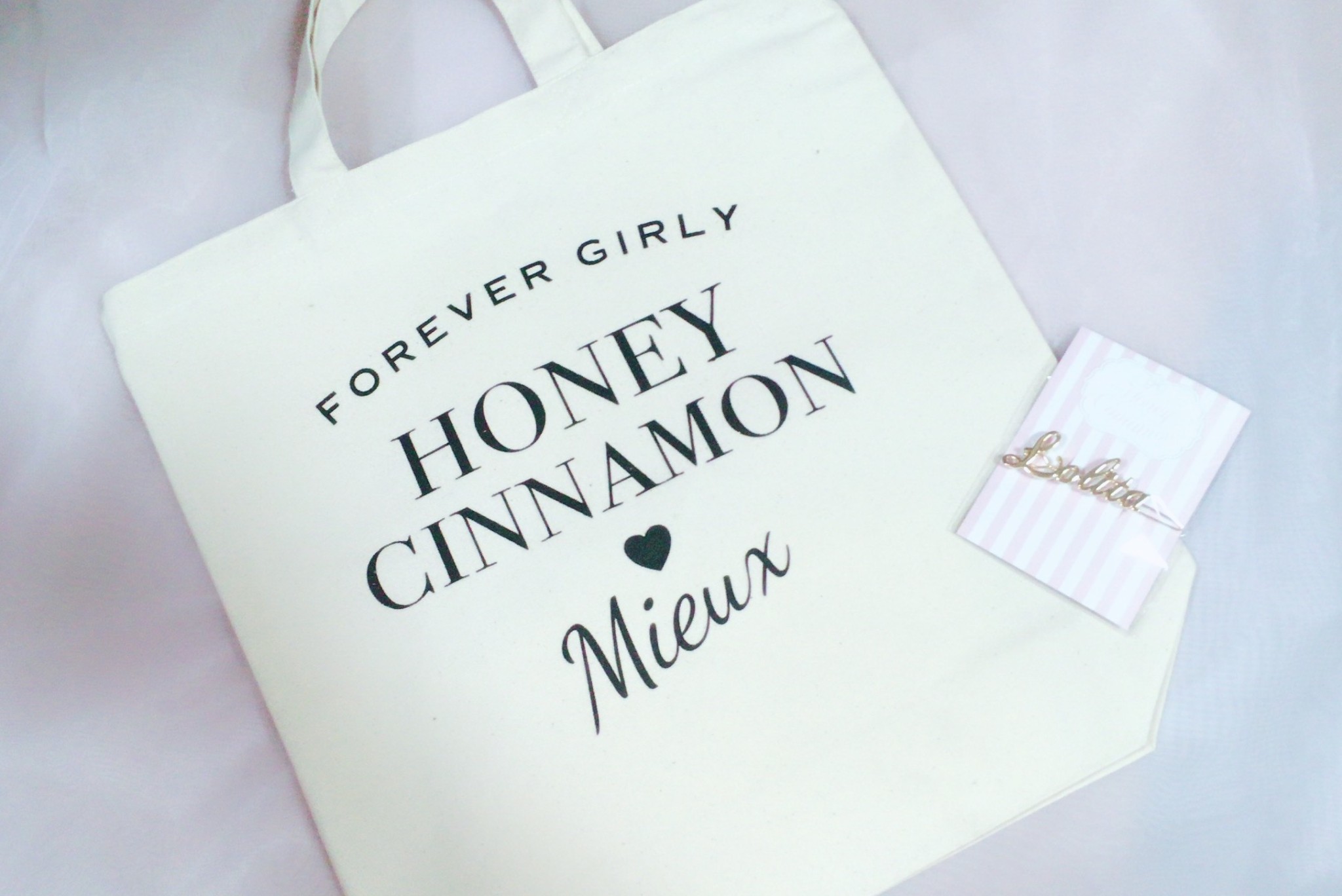 We were given a Honey Cinnamon logo tote bag and a "lolita" hairpin♡♪
They're this cute even though they're just novelty items~~~♡♡
The new items were angelic and super cute, you can tell Kanakana puts a lot of thought into producing Honey Cinnamon♡
There were so many cute items, I want all of it~♡♪
The new items are already appearing instore, so be sure to check the Honey Cinnamon Official Website and Official Twitter♡♪
(Store Information)
♡:Shibuya109 Store ▷Twitter
 東京都渋谷区道玄坂2-29-1 7F (Shibuya-ku, Tokyo Dogenzaka 2-29-1 7F)
♡:Umeda EST Store ▷Twitter
 大阪市北区角田町3-25 C23 (Kita-ku, Osaka Kakuda-cho 3-25 C23)
♡:Shinjuku Luminousto Store(POP UP SHOP ▷Twitter
 東京都新宿区新宿3-38-1 B1 (Shinjuku-ku, Tokyo Shinjuku 3-38-1 B1)
(♡)Producer
Hiramitsu Kanako (Kanakana)